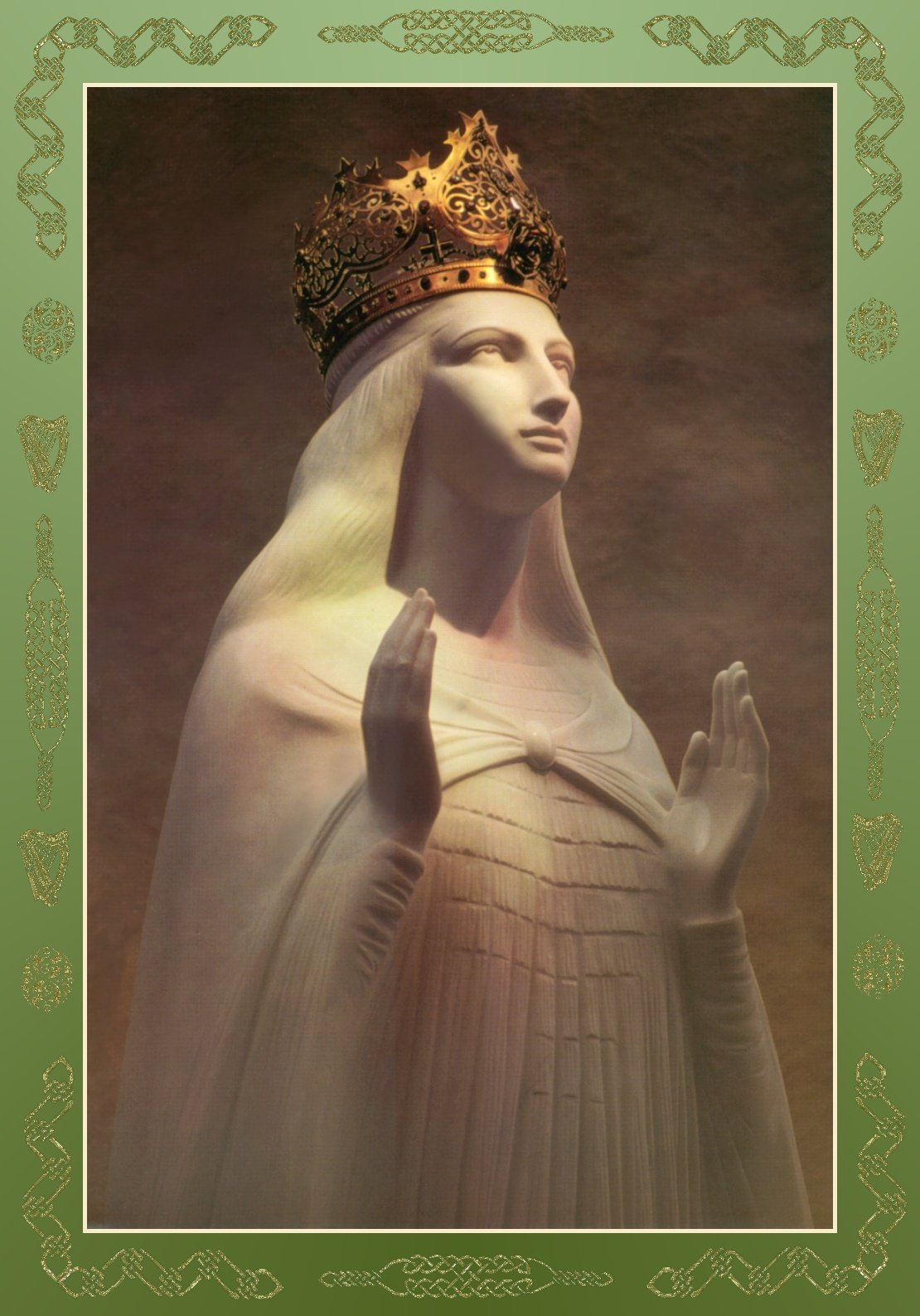 Knock is a parish in County Mayo, Ireland. On the evening of August 21, 1879. The Virgin Mary, St. Joseph, and St. John the Evangelist appeared at the south gable of the Knock parish church. A cross, a lamb, an altar, and a complement of angels surrounded them. These apparitions remained for two hours while 15 people witnessed the sight and said the rosary. Two ecclesiastical commissions, one in 1879 and one in 1936 examined the events and the witnesses' reports and endorsed the veracity of the appearances. The conclusions of these commissions allowed the establishment of Knock as a Marian pilgrimage site.
The Knock shrine committee was established in 1935 and pilgrimages to the site have increased over the years. In 1976 the Basilica of Our Lady, Queen of Ireland was opened with space for 12,000 people. Pope John Paul 11 visited Knock in 1979 and said mass. A large cross marks the site of the Pope's visit. An International airport has been built at Knock and over one million people visit each year.
A visit to Knock is always worthwhile. At the old church one gets a true sense of the miracle of the apparitions. Masses are continuously offered inside the old church and at the site of the apparitions. During the busier months devotions, rosaries, and Stations of the Cross occur regularly. It is truly a moving experience at the shrine.
Many explanations for the apparitions have been put forth. Some say that it was a spiritual reminder thirty years after the end of the famine. Some say that it was to boost the Irish morale after the failure of the Fenian Movement and the ongoing attempts for home rule. Some say that it was in support of the devotional revolution in Ireland at the time that had seen the religion move back into the church centered as opposed to home centered worship.
The explanation for the apparition is probably all of these and more. Ireland in 1879 was in the midst of a very difficult period. The aforementioned issues were complicated by massive immigration to other countries (mainly the U.S.A.) beginning in the 1850's and continuing through the 1890's (over 3 million people). Families were being broken up never to be reunited again. Poverty, separation, servitude, and an inability to see an end to hard times had taken its toll on the Irish people, particularly in Connacht. Perhaps this sense of desperation and hopelessness caused God to send a reminder of the special relationship of the Catholic Church and the Irish people. This sign of glory and hope would serve to rejuvenate the Irish people and bolster their faith. This would also serve as an inspiration for generations to come.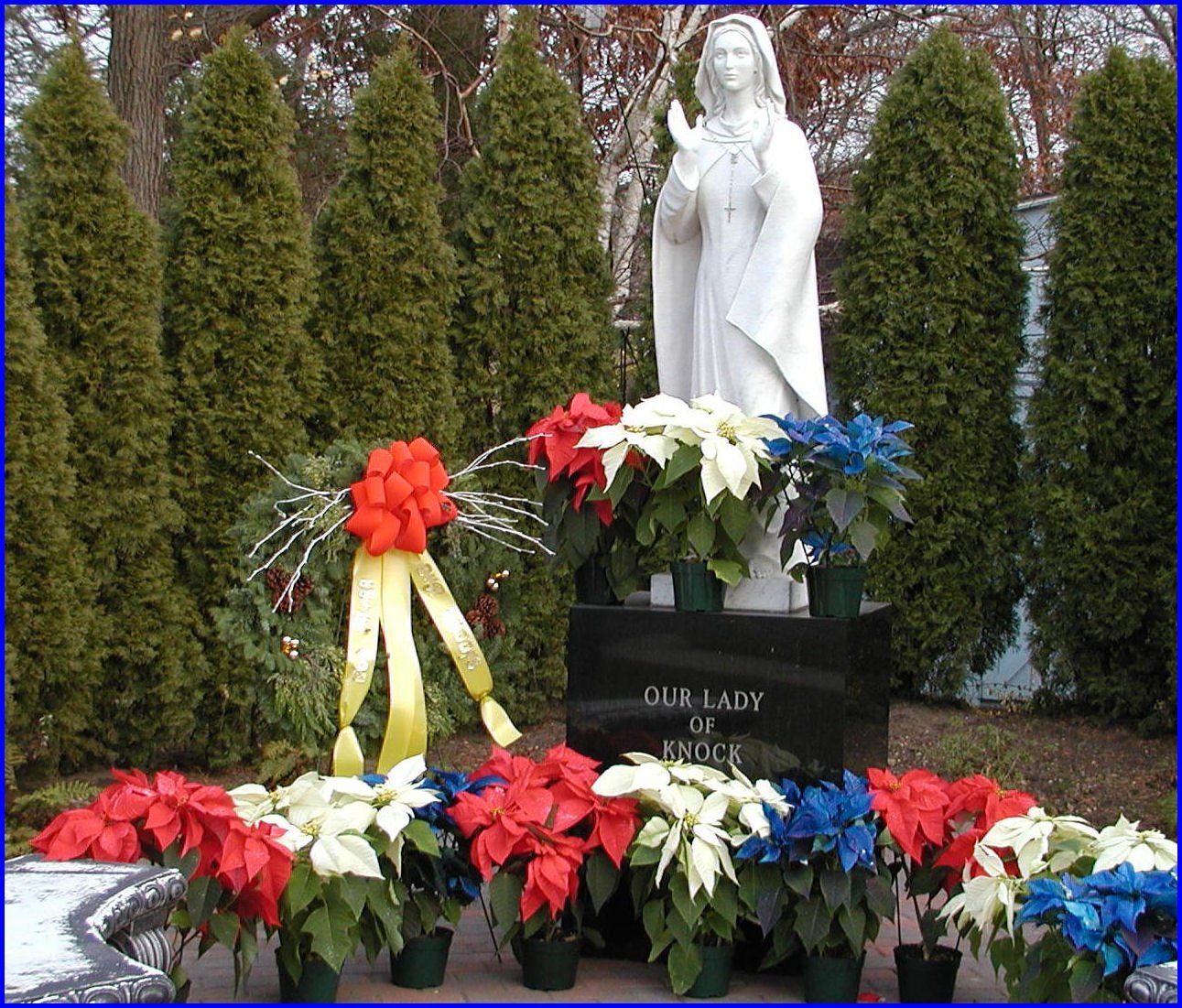 This song; Our Lady of Knock, is sung by the 'Hibernian Festival Singers". For more information on this outstanding group, as well as the purchase of their recordings can be found here: http://hibernianfestivalsingers.org
James Kilbane: Lady Of Knock Lyrics
There were people of all ages
gathered 'round the gable wall
poor and humble men and women,
little children that you called
We are gathered here before you
and our hearts are just the same
filled with joy at such a vision
as we praise your name
CHORUS:
Golden Rose, Queen of Ireland
all my cares and troubles cease
as I kneel with love before you
Lady of Knock, my Queen of Peace
Though your message was unspoken
still the truth in silence lies
as we gaze upon your vision,
and the truth I try to find
Here I stand with John the teacher,
and with Joseph at your side
and I see the Lamb of God
on the Altar glorified
Golden Rose, Queen of Ireland
all my cares and troubles cease
as I kneel with love before you
Lady of Knock, my Queen of Peace
And the Lamb will conquer
and the woman clothed in the sun
will shine Her light on everyone
And the Lamb will conquer
and the woman clothed in the sun
will shine Her light on everyone
Golden Rose, Queen of Ireland
all my cares and troubles cease
as I kneel with love before you
Lady of Knock, my Queen of Peace